Own photo gallery with all the comfort features
They are a some great opensource databased photo galleries avaiable that you can install on your server. Those galleries allready have an interface for publishing photos.
Publishing new photos per web interface can be annoying. Usualy, you upload the photos and manage albums and viewer rights in the same time. You are bound to your PC or Mac because your thousands of photos are stored there. And you need a good internet connection for uploading.
The process is much more enjoyable if you could the split the work into single tasks. 
Save the photos from your camera
Copy the pictures from your camera regularly to save them localy.
  
Upload choosen photos on the server
In a still moment at home, review your photos localy and upload them to the gallery. So you use your PC or Mac and your fast internet connection at home to upload the photos. You upload series of new photos in the server folder but don't need to manage them right away.
  
Arrange your photos
When you have the time, arrange the uploaded photos into albums, comment them, add permissions, etc. You can do this online, in the gallery software. You don't need to be at home on your PC or Mac, you can do this outside home from a tablet as organizing requires much less bandwidth.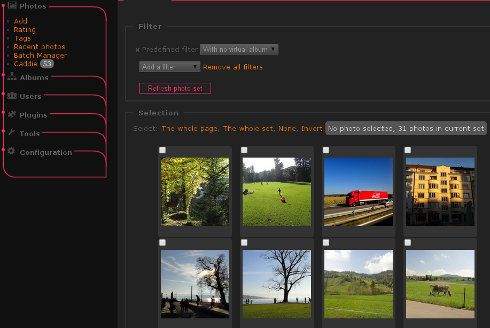 Screenshot of Piwigo assigning virtual albums